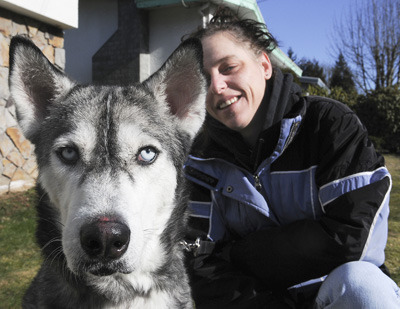 Sam was just four months old when he was shipped from Alaska to his new owners in Vietnam in 2009.
But the Siberian husky, used to crisp Arctic temperatures, did not fare well in the southeast Asian heat and humidity. He developed a troublesome skin condition.
His first owners abandoned him at the vet clinic after his second visit there.
Sam was adopted out to a second couple, but they returned him to the clinic a short while later. Then Anna Dorgan of Abbotsford met him.
Anna had moved to Saigon on a two-year contract, teaching English to elementary students. She has a heart for animals, and it didn't take her long to reach out to some of the thousands of homeless, needy and sick animals roaming the streets.
Anna began volunteering with Animal Rescue and Care Vietnam, which consisted of a small group of people and a veterinarian addressing the plight of abused and abandoned animals.
She rescued two dogs and one kitten – all in rough shape – and was visiting one of them at the Saigon Pet Clinic when she learned about Sam.
When he first arrived at the clinic eight months previously, his skin and the pads of his paw were raw from an infection.
The vet, Dr. Nghia, was able to improve his condition, but Sam had ongoing issues and needed a climate better suited to his hardy constitution.
"Anna, how can we help Sam?" Dr. Nghia asked.
She was planning to visit Abbotsford during a break from school because of the Lunar New Year celebration. Dr. Nghia pleaded with her to take Sam with her and find him a home.
She agreed. One volunteer donated a crate for Sam to travel in. Another drove Sam to the airport, where they met up with Anna. A sponsor covered the travel costs. Just getting him to Canada cost $2,000.
Twenty-four hours later, on Feb. 5, the two landed at Vancouver International Airport and made their way to Abbotsford, where Anna would be staying with her parents until returning to Vietnam.
Sam couldn't go with her because there were other animals in the household, but Anna had found a suitable replacement – the Abbotsford home of her cousin, Rene Prevost, and his wife, Sandra. They agreed to foster Sam.
Sam, an energetic happy dog despite his health issues, settled into his new home nicely. He tried to bond with the family's nine-year-old cat, Lexi, but she didn't want much to do with him. He was introduced to new things – like bouncing balls, peanut butter and responding to commands such as "Sit!"
But his skin condition and foot issues were still troublesome.
The Prevosts took Sam to Clayburn Pet Hospital, where he was seen by veterinarian Katz Pillar.
She diagnosed Sam with skin mites, a fungal infection and multiple bacterial infections. The pads of his paws were raw, and the infections had affected his elbows, belly, ears and between his toes.
Dr. Pillar also discovered that Sam's immune system had been repressed and his body was resistant to most antibiotics.
He is now in the midst of a 10-day round of antibiotics that costs about $500. He also requires special nutritional supplements. Dr. Pillar estimates that Sam's overall treatment could cost $3,000 to $4,000 – or higher.
Although the Prevosts are both employed, Sandra is worried they won't be able to afford the treatment, and alternate arrangements will have to be made for Sam.
Dr. Pillar has donated her time and some of the supplements, and has discounted the cost of some medication.
Family and friends have also helped out.
Anyone else wanting to lend a hand can make a donation to Sam's account at Clayburn Pet Hospital.
The clinic offers a Needy Pets Fund for cases in which money is a mitigating factor between life and death.